So yesterday Jimmy Kimmel live released the new Batman v Superman: Dawn of Justice footage video. The teaser looks awesome and the hype is real, you can see Superman telling Batman he can kill Batman anytime he wants and Batman then plays his iconic vanish into the thin air trick on Superman.
But here is my question, Superman can see through walls but he can't see through smoke?
and even if it is some kind of lead based smoke why he didn't just blown it away?
He is probably trying to be a badass or he likes to slide through the smoke. We will see when the movies comes out in the theaters.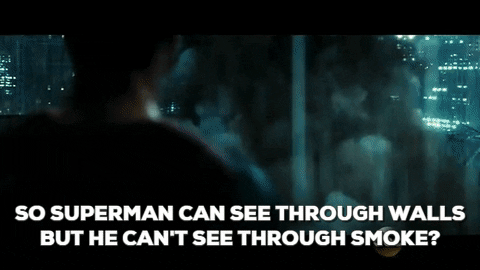 Batman v Superman: Dawn of Justice is coming soon in theaters on Mach 25th.
In collaboration with multiple authors/ group opinions.
Comments